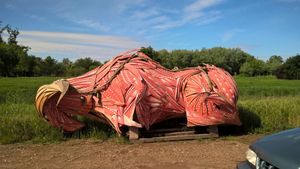 Lester and Wilbur just appeared one day - in south Redding just east of I5. Two giant bighorn sheep - they brightened up the morning commute and it turns out they were created by artist Joel Stockdill for a music festival and made their way to Redding. They were erected on property owned by Providence International, an organization dedicated to "Building Healthy People, Plants, Partnerships, Places and Planet through Restorative Relationships"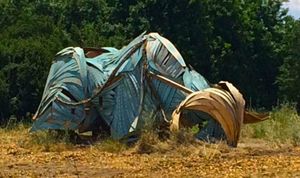 There were some zoning issues with the county, but before anything could be resolved, the sculptures were destroyed by vandals.  
The episode disturbed me -- and when I'm disturbed I write. It gives me a way to look at things differently. So "The Ballad of Lester and Wilbur" took shape over a couple of days - I recorded it and slapped together a lyric video and posted it on Facebook and Youtube. 
The reaction has surprised me -- 8400 views on Facebook, and 160 shares - in one week. For perspective: If I added up the views for ALL of the videos I've uploaded over the past ten years, I don't believe I'd come close to those numbers. So there is something about these lovely beasts -- about art and community -- that struck a chord. I've been contacted by the founder of Providence, Robert Lincoln Hancock, and I told him that I am happy to use music and write songs to help further their cause. 
Lester and Wilbur will rise again -- and there is more joy on the horizon. Check out the website for The Trace. 
I have a sign in my studio: "You have one job: Use music to change the way people feel." I am delighted and excited to be a small part of this. 
Erin
Photo credit to: Wanda Leach Lucklum and Tristan Ward