After Whiskeytown Park burned, I spent a lot of time with my watercolors and my memories, trying — with varying degrees of success — to process the loss and create pictures that capture the beauty and the joyful spirit of time spent at the park, cruising over the lake in our little homemade wooden boat, "Moonshine." 
My passion for painting felt more like a calling than a hobby, and I was frustrated by my inability to fit everything into the frame: the huge expanse of sky, the soaring bald eagles, the tangled pines, the silver spider webs that criss-cross the trails in the early morning, the captivating blue of the lake. That blue. That amazing, deep, pure blue was my nemesis - impossible to convey with my limited skill set….But I kept painting scenes of Whiskeytown because it felt better than mourning and doing nothing. 
I also wrote a song about the experience: Whiskeytown Blue. 
On January 25, I'll perform "Whiskeytown Blue" at the North State Songwriter Showcase at Redding City Hall — part of city-wide Cultural Cruise. Across town at Turtle Bay, the West Coast Biennial Art Competition and Exhibition will feature one of my paintings - "Whiskeytown Blue #2."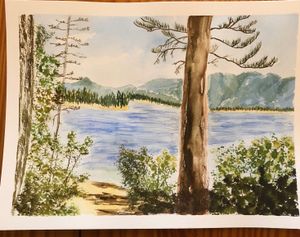 So it's a bit of a full-circle art experience — and ALL new to me. But I plan to continue working on Whiskeytown watercolors until I feel I've done the place justice. The landscape is showing delightful signs of re-birth, so I'll be watching.  Listening for songs and painting (and re-painting) my beloved Whiskeytown scenes. 
For more information on the Cultural Cruise: Shasta County Arts Council