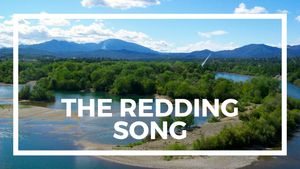 A little more than a year ago a group of people gathered at Redding's Old City Hall in hopes of getting a California Cultural District designation for Redding. It was a long shot, there were a lot of hoops to jump through. But thanks to the believers and the artists and the cultural leaders – Redding did it. Fourteen new Cultural Districts were established in California and Redding – bless her hot little heart – was one of them.
With Cultural District Designation came some funds – the McConnell Foundation stepped up with a very generous donation and The Redding Cultural District Micro-grant program was established. 
I applied for and received a grant to make a music video for a song I wrote a few years ago – The Redding Song -- it highlights some of the best things about Redding:  our sunshine, our bridge, our recreational opportunities. I hired Ty Bos at Outlander Creative to produce the video – because he loves Redding, too.
I'm hoping the video will inspire civic pride and open some eyes to the wealth of opportunity and beauty here. 
But we can't talk about Redding, now, without talking about The Carr Fire – this summer's disaster -- because it forever changed Redding and forever changed us.  In the the aftermath of that fire, I observed people responding with generosity, compassion, and hard-working community spirit. This cataclysmic event reaffirmed my belief that there is, truly, something special about Redding.
I owe thanks to many people: The Redding Cultural District Micro grant program, the Shasta County Arts Council, the McConnell Foundation. 
Thanks to Ty Bos at Outlander Creative who produced the video, and all the wonderful, generous songwriters – my friends -- who helped celebrate at our premiere.
And finally – thanks to Marc Beauchamp – the journalist who posed the question: "What does Redding stand for?" and inspired this answer -- The Redding Song.