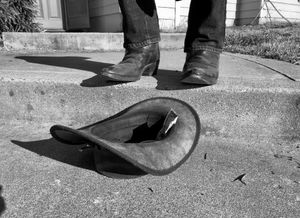 During the quarantine and lockdown that has been in effect for the last few weeks, I've watched lots of solo live streams, read posts from musicians who dearly miss their musical comrades, and watched as months of gigs for hard-working bands disappeared in a puff of viral smoke. 
Add to that a boatload of anxiety, grief, and an endless stream of bad news, and I found myself a little keyed up. 
My go-to self-soothing techniques are eating and songwriting. So after I ate everything in the house, I decided to write a song to make myself feel better. This tune tells the sad tale of a lead singer who is missing his quarantined bandmates — "A Frontman is Stranded on the Streets of Laredo." 
Maybe with a little patience — and a lot of music — we will get through this and discover that we truly are "better together." Here's hoping.