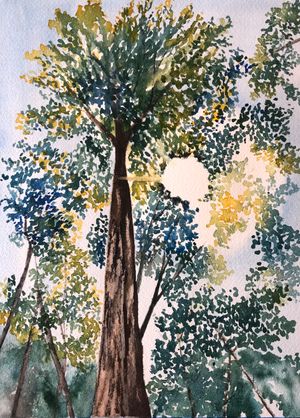 "Artists are Second Responders" - love that idea, and through the magic of the internet, I watched it play out over the last pandemic year: Writers offering encouragement and humor, songwriters sharing online concerts and artists of all kinds helping us muddle through and giving a glimmer of hope for days to come. 
"One Year Ago Today" is a new exhibit at the Shasta County Arts Council's Old City Hall in downtown Redding. It includes works borne out of the pandemic year by North State artists. I'm delighted to have two of my paintings featured and a lyric video, "See How We Heal," on a computer in the gallery. 
My Artist's Statement: 
"As a songwriter, I use words and music to reshape my view of the world: Take the truth, twist it and turn it and find the lessons worth learning.As a watercolor artist, I seek the same comfort: A way to be at peace with what is so.  
A Year Ago Today I was contemplating how Shasta County might come through the devastating pandemic. My fervent hope was that we would band together, help each other and find strength in our community ties - just like we did after the Carr Fire.  
It's been a rocky road, but the songwriter in me still believes we can come back better than before. So I write hopeful songs and paint pictures of places that have been ravaged and healed."
We're looking forward to playing our first post-pandemic gig on Friday, July 2nd at 5 PM in the gallery at 1313 Market St. The First Friday North State Songwriter Showcase features Hal Johnson, Nick Ciampi, Preston Fennell and Still Married. First Fridays celebrate Redding's newly renovated downtown --  fun activities and music throughout the area. Come celebrate with us!
-Erin
###